Dividing your nutritional intake into several portions is ideal for when you are doing sport: digestion times are shorter than with 2 or 3 main meals. Do you want to change your snack recipes? Here are 6 ideas for healthy, protein-rich snacks to prepare at home to support your sports activities, vary your treats and adjust your menu according to your activities during the day!
2 Drinkable Snacks for Express Refueling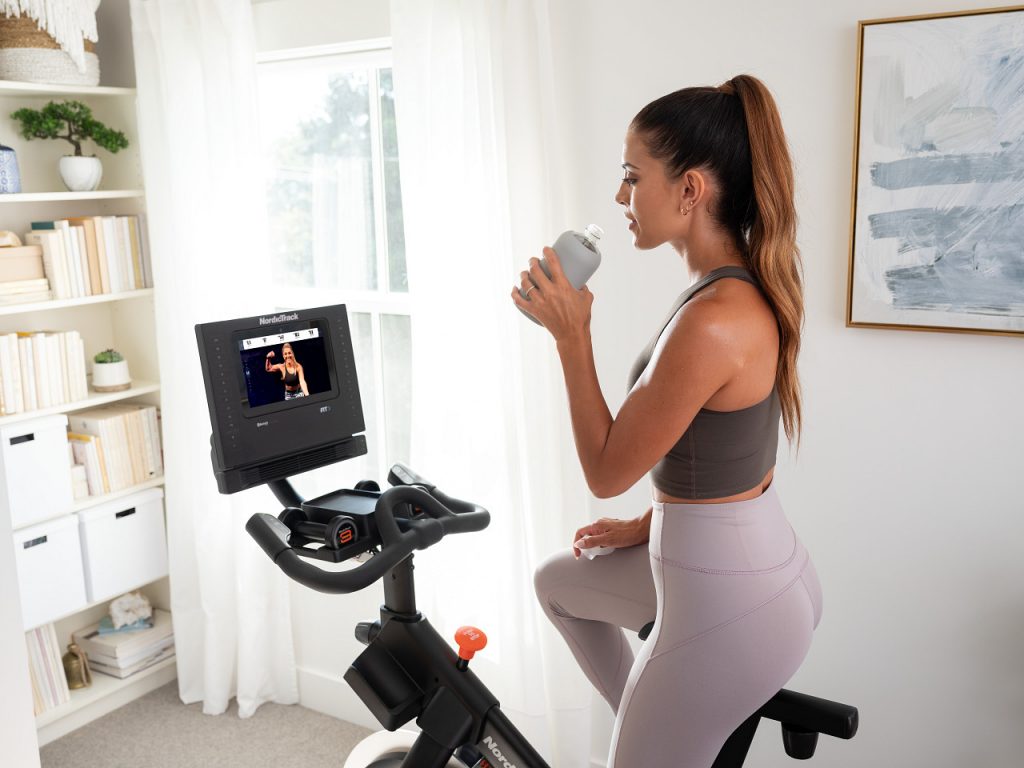 Easy to carry and convenient to consume, the drinkable snack is an ideal pre- or post-workout snack. To prepare it, all you need is a blender. Focus on protein to promote the production and repair of muscle fibres, and don't hesitate to vary the ingredients in these basic recipes.
Homemade Protein Shake for Gaining Mass
The mass gainer is a protein drink consumed during the period of mass gain in bodybuilding. It mixes different types of slow- and fast-acting proteins, such as the albumin contained in egg whites and lactic proteins. Here is a classic recipe for a homemade protein shake:
3 egg whites lightly cooked in a microwave oven or bain-marie (or egg white powder)
250 grammes of Greek yoghurt
1 ripe banana
250 ml skimmed milk
Drinkable Vegan Tofu Snack
Looking for a drinkable snack idea without animal ingredients? Go for soy and tofu. Here is a delicious vegan recipe, which is rich in protein:
100 g mangoes or peaches
1 orange or other citrus fruits for a little variety: lime or yuzu go very well with mango, for example.
50 g flaked or chopped almonds
80 g tofu
2 Healthy Snacks to Adopt Before and After Sport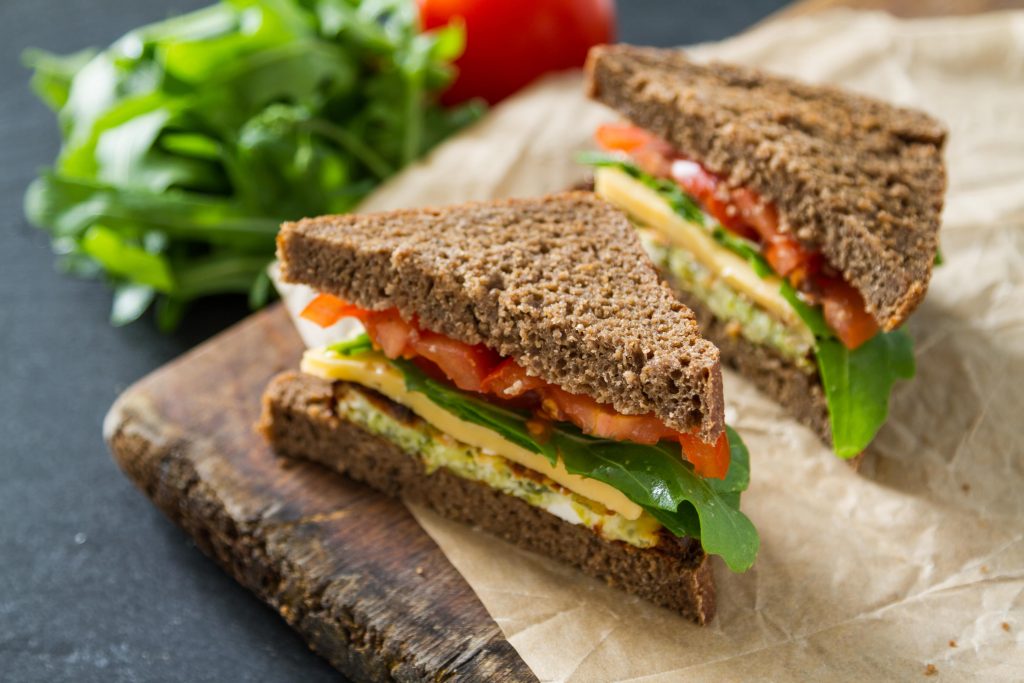 Here are 2 healthy snack ideas for a full day. With an energy-rich pre-workout snack and a post-workout snack to help you recover, you'll be ready to face the day in the best possible condition!
Before a Long Session: Homemade Sports Gingerbread
Very rich in carbohydrates but low in fat, gingerbread is one of the most effective sports cakes to support intense or prolonged exercise. To optimise its protein content, opt for whey-enriched flour or spelt flour. Here is an example of a recipe, with a baking time of 45 minutes in a preheated oven at 180 °C:
150 g of honey: chestnut, fir, lavender, etc.
250 g flour
1 egg
A pinch of salt
Dried fruit of your choice: dried apricots, angelica, dates, raisins, figs, etc.
4 teaspoons of spices: ginger, cloves, aniseed, cinnamon and so on. Each ingredient has its advantages, with, for example, stimulating properties for ginger and an analgesic effect for cloves.
50 ml vegetable oil
150 ml water
After Sport: Recovery Sandwich
The two hours following exercise are crucial for muscle recovery. By planning a sandwich combining meat or fish, egg and raw vegetables, you give your body something with which to replenish its reserves in a complete snack. Opt for lightly toasted bread, which is easier to digest. Here is an example of a recipe:
Toasted bread or muffin, ideally whole grain
Crushed avocado
Hard-boiled egg
Smoked salmon
Lemon juice
Herbs of your choice: dill and chives go well with salmon
2 Protein Snacks with a Long Shelf Life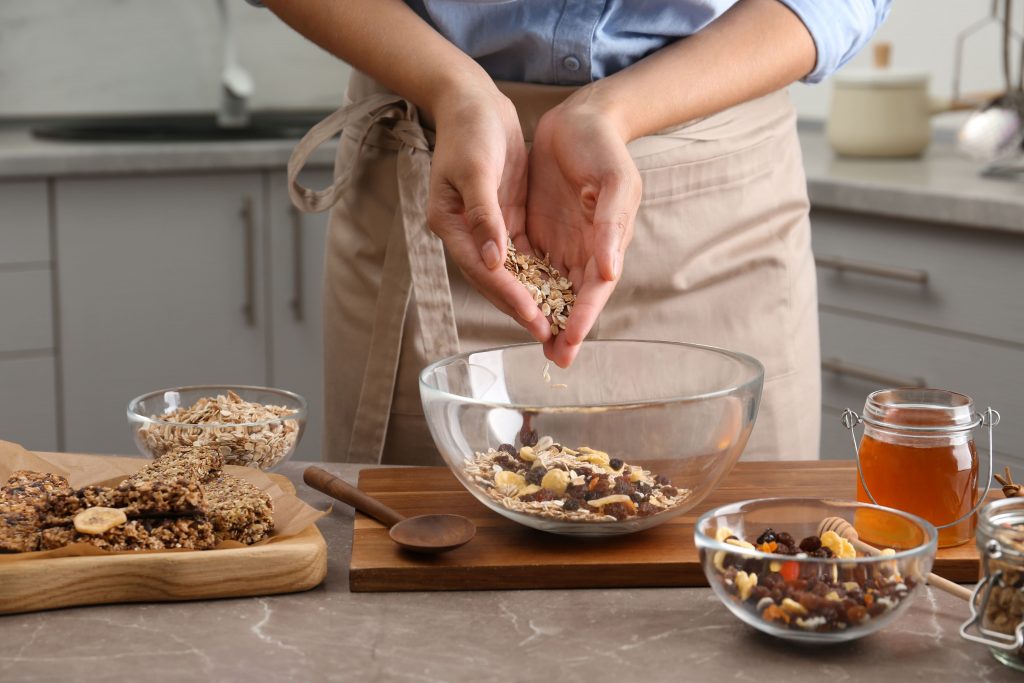 Shelf life is often a beneficial feature of sports snacks: a long-life snack can be easily transported and prepared in advance in large quantities!
Homemade Granola
Easy to prepare, granola consists of seeds, cereals and nuts coated in a honey and oil-based binder and then baked for 20 to 25 minutes at a low temperature (140°C). All variations are possible, and this snack can be kept for up to 1 month in a closed jar after cooling it, to keep it crisp. You can combine your homemade granola with cottage cheese or yoghurt for a balanced snack. Here's a base to get you started:
300 g oatmeal
100 g of seeds or nuts, chosen for their flavour and benefits: pumpkin seeds, flax seeds, hazelnuts, pistachios, Brazil nuts or even dried coconut.
Binder: 2 tablespoons of vegetable oil and 3 tablespoons of honey, with a pinch of salt.
Roasted Chickpeas
As a high-protein alternative to popcorn, roasted chickpeas are not only delicious as an appetiser but they are also non-perishable and easy to transport! Rich in high-quality vegetable protein, they quickly fill you up. To prepare them, simply coat them with olive oil, add dried herbs and spices, and bake them for 40 minutes at 180°. Let them cool in the open air before storing them in a closed jar.
Check out our Health & Fitness page for more advice.