Well-known and inexpensive, lentils are not seen on our plates or in our diets as often as they should be. However, with multiple benefits, these legumes are rich in vegetable proteins, cook quickly, and are excellent energy sources. Find out how they can help you boost your physical performance and find some easy lentil recipes to add to your menu.
The Nutritional Value of Lentils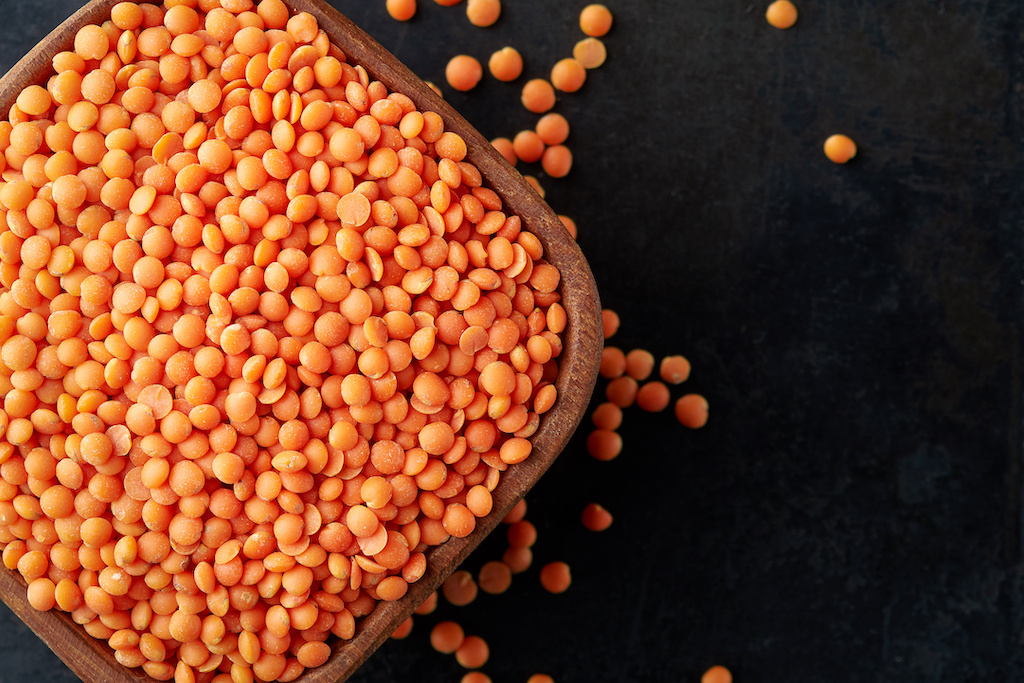 There are different varieties of lentils, all with interesting nutritional properties:
Green lentils, in particular green Puy PDO lentils, are considered to be the best quality.
Yellow lentils are the largest in size.
Brown lentils are frequently found in tinned food.
Red lentils, popular for their delicate, slightly sweet and peppery taste and for the fact that they cook much faster than the other varieties because they are sold already shelled.
Considering their health benefits, we could all stand to gain from including lentils in our diets more often. For every 100 g of lentils, you get the following nutritional benefits:
127 kcal, which is due to their high starch content and makes them a good source of energy.
8.45 g of fibre, which delays the assimilation of carbohydrates, thus avoiding glycaemic peaks, making it easier to control energy production over time.
10.1 g of protein, which can be combined with other sources, such as seeds and nuts, to supplement a vegetarian meal.
Only 0.58 g of fat: lentils are low in fat.
Various B vitamins, which play an important role in the production of energy at the cellular level for many metabolic processes.
Magnesium, potassium and phosphorus, essential minerals for bone health and muscle contraction.
The presence of selenium, a trace element with antioxidant properties, is also noteworthy.
Why and How to Include Lentils in Your Diet
Lentils are particularly suitable for sports nutrition. According to a scientific study presented by Gordon Zello from the University of Saskatchewan, the consumption of 600 g of lentils by football players two hours before a match showed better results than several other food combinations with a high-glycemic index.
Lentils are believed to slow down the oxidation of carbohydrates, which are used to build up energy reserves that the muscles draw on during exercise. They offer two main advantages for athletes:
Improved endurance due to their low glycemic index
Improved muscle power due to their high protein content
3 Recipe Ideas for Cooking Lentils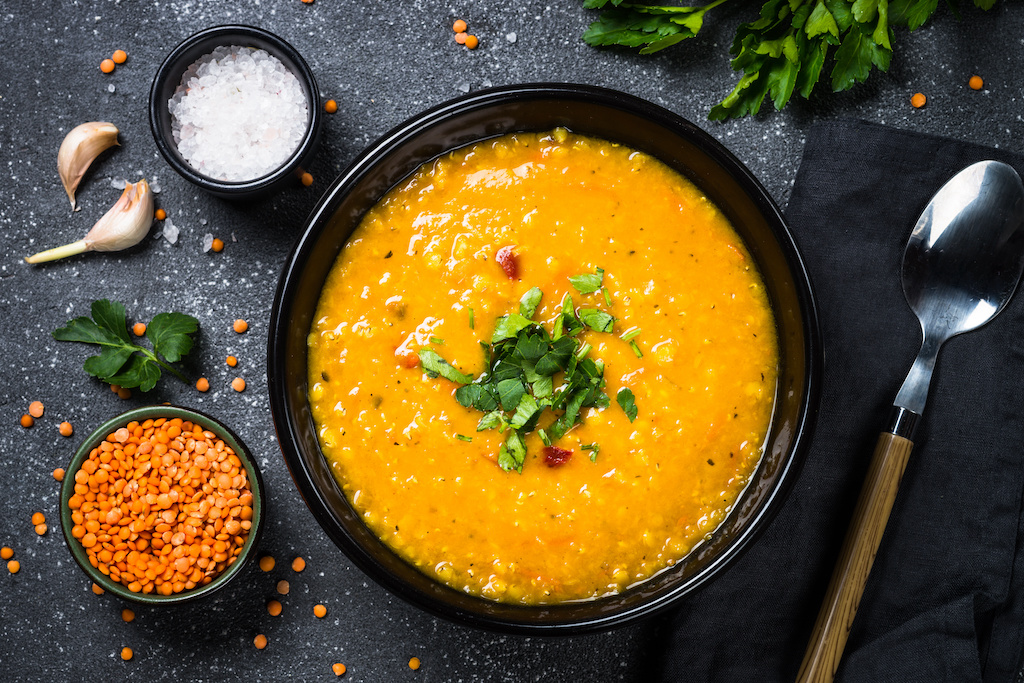 To boost your athletic performance and incorporate lentils more frequently into your diet, here are some preparation tips and 3 recipe ideas.
How to Prepare Lentils
Lentils have an advantage over other legumes in that they are the quickest to cook. Soaking them can make them easier to digest, but this step is not mandatory, except possibly for yellow lentils, which have a thicker skin. Dip them in water and remove any hard lentils or impurities remaining on the surface, then drain them. Lentils cook in about 40 minutes when using cold, unsalted water to start. Red lentils cook in only 10 to 15 minutes.
3 Gourmet Lentil Recipes for Athletes
Lentils can be used in many recipes. They can be prepared in salads, soups, purees or mixed with other legumes or bulgur, for example. Here are some ideas for varying your menus:
Dahl is a traditional Indian vegetarian dish made with lentils, herbs and spices: with tomatoes, chillies, salt and curry, there are many ways to create your own homemade dahl.
Create a gourmet salad with green lentils, quinoa, bulgur, nuts, fresh or dried berries, seasonal vegetables and a light vinaigrette.
Go for originality by cooking a red lentil hash. Prepare a sweet potato purée with coconut milk and cook the lentils. Then place them in a ramekin topped with a layer of mashed potatoes. You can add herbs of your choice or pan-fried vegetables for a touch of colour.
Check out our Health & Fitness page for more advice.