A unique interactive coaching solution, iFit® offers highly immersive online exercise sessions covering a wide range of disciplines with several subscription package options. Enter a community of passionate sports enthusiasts and achieve your goals through virtual coaching programs led by world-renowned fitness experts.
What is iFit® coaching?
The iFit® adventure began in 1989 with the pairing of a VHS player and a treadmill to allow for adjustment of the treadmill settings in real-time during the workout. In 1995, the system switched to CD, with virtual coaches inviting users to adjust their machines to make the sessions more interactive. Between 2007 and 2010, iFit® launched a partnership with Google Maps® to allow users to create customised courses with the Street View tool. The tablets then were integrated into the equipment and synchronised to automatically adapt settings during the sessions.
iFit® interactive coaching solutions
The iFit® online sports solutions are getting better and better every year and offer:
Calorie counting, body data monitoring and recording of athletic performance.
Creation of smartphone applications to track data on the move.
Personalised exercise suggestions with iFit® Daily.
Creation of connected watches and bracelets to track calorie, activity and sleep data.
Integration of HD touch screens in fitness equipment.
Interactive sessions with more than 60 different sports disciplines filmed in the 4 corners of the world.
Personalised nutritional recommendations.
The aim of iFit® is to inspire and motivate its users by encouraging them to adopt healthy lifestyles, offering them high-performance and fun monitoring solutions to better care for their health and improve their physical condition.
More than 100 coaches for personalised training
The iFit® team includes more than 100 sports coaches selected from some of the top athletes around the world. Caring, inspirational and educational, they motivate you and encourage you to push your limits through outdoor or indoor sessions and exciting journeys filmed in incredible locations. Choose the right iFit® coaches for you, such as:
Hannah Eden: Specialised in HIIT training, the founder of the PumpFit club is also an Olympic athlete who organises group HIIT training sessions in her fitness centre in the United States. She presents positive cardio and HIIT sessions, some of which are recorded in Iceland amidst dreamy landscapes.
John Peel is known for his appearances in advertisements for major sports brands, such as Nike, Total Gym and UnderArmour. A fan of skydiving, this former football player from the University of Utah enthusiastically accompanies you on dynamic training circuits.
Gédéon Akande uses humour and anecdotes from his personal experience to help you progress. Before becoming a fitness expert, he worked in the financial sector.
Emi Erickson is a competitive surfer who will help you to adopt a healthy lifestyle with videos in exotic landscapes. Her relaxing series of walks and meditation sessions in Hawaii are beneficial for physical and mental well-being.
The different iFit® subscription packages
There are two iFit® subscriptions:
The 1-year iFit® subscription, with unlimited access to the indoor and outdoor training library for €149.
The iFit Family subscription, at €399 per year, with the same advantages and the possibility of connecting up to 5 different accounts to ensure personalised coaching for each member of the family.
The iFit® application is compatible with Android and iOS smartphones and tablets. In most cases, the purchase of a NordicTrack fitness device includes 1 year of iFit® or the iFit® Family subscription. The iFit® library contains many workouts that do not require any equipment, including yoga, boot camps, weight training, stretching, cross-training, and so on. A simple smartphone is all you need to take advantage of the possibilities of this personalised support.
7 reasons to choose iFit virtual coaching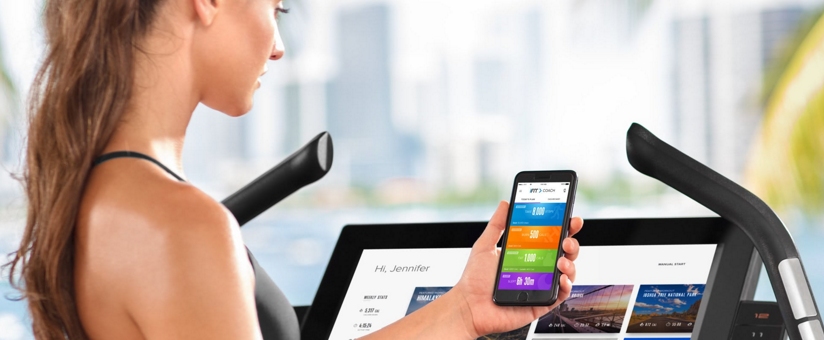 iFit® interactive coaching solutions are for you if:
You want to refine your training plan and adapt it to your schedule without constraints.
You are running out of ideas to enrich your fitness sessions.
For you, exercise should be synonymous with escape and pleasure.
You want to make the most of your home fitness equipment.
You want to follow a complete fitness programme, including diet, exercise and sleep.
You are looking to vary your workout routine and need a boost to motivate yourself.
You would like to interact with a community of thousands of athletes.
The most popular iFit® sessions

The iFit® library continuously integrates new virtual coaching sessions. Which of these popular sessions will make you want to give it a try?
The treadmill/elliptical series for beginners in the Alps, with John Peel.
The St. Lucia weight loss walk series, with Stacie and Chris Clark.
The Force series, filmed in Iceland, with Hanna Eden.
The New Zealand Mountain series, with Regan Pearce and Eric Porter.
The Mount Fuji hiking series, with Ashley Paulson.
The cross-training series in the Hawaiian Islands, with Kirsty Godso.
A walking tour of ancient Egypt, with Ramy Romany.
The Jumpstart series for novice cyclists, with John Peel.
HIIT cardio series for beginners in Bolivia, with Hanna Eden.
The Heartward Yoga series, with Nicole Meline.
Meditation and mental strength sessions, with Kevin Courtney.
The strength and bodyweight exercise series for beginners, with Zac Marion.
Bolivia half marathon training series, with Tommy River Puzey.
Check out our Fitness equipment & Coaching page for more advice.