The Freestride is a high end home fitness machineat the cutting edge of technology. Combining 3 essential fitness methods in a single device, this combined fitness trainer is a space-saving asset at home.What benefits does it bring and how do you select the model that meets your needs?
Why choose a Freestride for training at home?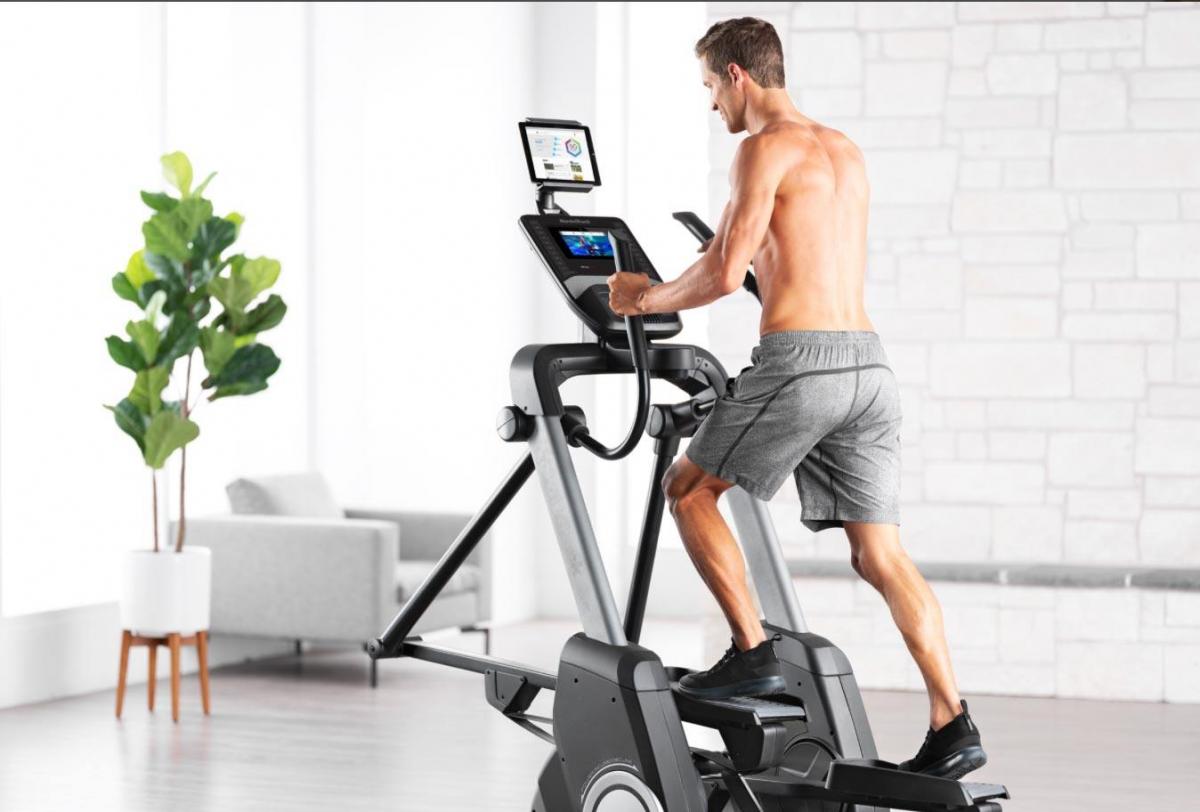 Not sure about which home training equipment to choose? The Freestride, an innovative combined training machine, gives you every option. Thanks to this versatile device, you can replicate the movements of the treadmill, the stepper and the elliptical trainer, and vary your exercise programme continually so that no session is ever the same as another!
Your ideal home gym: a combination of fitness technologies
The Freestride is an innovative elliptical trainer, bringing together some of the leading technologies developed by NordicTrack. Robust and designed for intensive training, this versatile device combines numerous features and options to make your workouts more enjoyable than ever:
To change the stride length, there's no need to press a button: you simply have to alter your movements. Make up and down stepping motions, as if you were climbing a staircase, to train in stepper mode. Take small strides while swinging your arms on the movable handles as if practising Nordic walking: you are now in elliptical trainer mode. The more you lengthen your stride, the closer you get to running. Smooth and impact-free, the movement is fluid and intuitive, with a stride length of up to 81 cm. Change your perception of fitness training equipment: the Freestride adapts to you, not the other way round.
With its motorised magnetic braking system, the Freestride lets you adjust the resistance easily with a simple gesture. The more you increase the difficulty level, the closer the magnets get to the centre of the flywheel, and the more calories you burn! With 22 to 26 resistance levels depending on the model chosen, this device is suitable for all fitness levels.
Speakers, a tablet holder, Bluetooth connection and MP3 connection provide everything you need to train along to the sounds of your current playlist.
A bottle holder, a fan that adjusts according to your speed, and travel wheels on the front to facilitate the transportation of your cross-trainer mean that nothing has been left to chance when it comes to making your fitness session as enjoyable as possible.
Optimize your home gym space
Shallower than a treadmill and more compact than a classic elliptical trainer, the Freestride is the ideal home fitness machine for small spaces. With its multiple training features and trim size, the Freestride is a genuine gym for your home. Save money by combining a suite of fitness activities in one machine that will give your whole body a fun workout. With a whole year of iFit® virtual coaching included when you buy your Freestride, you'll even have your own sports coach!
Succeed in your training on a Freestride
The benefits of Freestride: 3 times greater the chance of reaching your goals
The Freestride gives you access to all the training opportunities offered by home fitness :
Gentle cardio-training that brings 80% of the muscles into work with the elliptical trainer
Muscle conditioning and cardio-vascular improvement through long strides, as on a treadmill
Lower body muscle improvement and glute toning and firming using step movements, a classic fitness activity
The range of possibilities offered by complete training
To get the best from your training, be sure to vary the intensity of the movements and the resistance levels during each training session: the Freestride is intended to help you diversify your training sessions !  The 3 fitness activities make the lower body work effectively. Boost your training using the handles that allow you to recreate the movements of the elliptical trainer to work out your arms and shoulders. The inclining feature on some models gives you even more opportunities to try out new challenges!
Which Freestride model is best for you ?

Depending on your experience, your aims and your budget, you can choose from 3 models of Freestride, each designed for intensive use, with the high standards of quality and comfort, which are typical of NordicTrack machines.
The FS5i et FS7i: two outstanding high-end machines
The FS5i and the FS7i are high-end training machines that integrate the latest technological advances while offering the ultimate in user comfort. Of similar dimensions, they fit easily into any space and create a sense of lightness in every movement, with the same length of stride. The FS7i also offers these additional options :
A tilting ramp that is motion adjusted, to try out new ways to test your body and exercise different muscle groups.
A 7-inch colour HD Touchscreen screen, while the FS5i offers a 5 inch backlit LCD screen, both models offering a wide field of vision and access to all the essential information for training: number of calories consumed, number of steps taken, heart rate, distance travelled…
An Effective Inertia of 9 kg for the flywheel, against 7 kg for the FS5i, for providing even greater fluidity in movements (the Effective Inertia is a reference calculation standard developed by ICON to compare elliptical trainers).
Integrated iFit® connectivity, with 1-year subscription to iFit® Family included to register up to 5 different accounts on your FS7i. The Freestride FS5i can also give you access to iFit® virtual coaching thanks to its Bluetooth connection
The FS7i offers 24 resistance levels, 2 more than the 22 available on the FS5i.
Included with the FS7 is a heart rate monitor for measuring your heart rate during training
How to decide between the unbeatable budget model FS5i and the advanced technologies of the FS7i ?
The FS9i, a new and even more efficient performer
Do you want to take a step closer to success and begin Freestride with the latest NordicTrack innovations? The latest addition to the range, the FS9i, upgrades to a 10-inch screen for total immersion. With its 26 resistance levels, it lets you schedule your workouts like a professional. With its motorised tilting ramp, you can now train on an incline to target more muscles, the degree of inclination ranging from -10 to + 10%.
Whichever Freestride model you choose, you will have access to the latest trends available today for exercising at home with an innovative machine that is also robust and very compact.
Check out our Fitness equipement & Coaching page for more advice.