When it comes to exercise bikes, two main models are available: the upright bike and the semi-recumbent bike. Find out which one is right for you and how to choose your fitness equipment based on your sporting goals and physical condition.
Upright bikes vs semi-recumbent bikes, what are the differences?
A comparison of the two models of exercise bikes should help you to understand the differences between the upright bike and the semi-recumbent bike better. These are mostly noticeable in the position that is adopted for pedalling.
The semi-recumbent bike
The semi-recumbent bike is designed to provide optimal training comfort. It is equipped with a full seat with a backrest that is slightly inclined backwards. This provides ideal lumbar support during exercise. It is very ergonomic, simple to handle for sportsmen and women of all levels and is easy on the joints.
The upright bike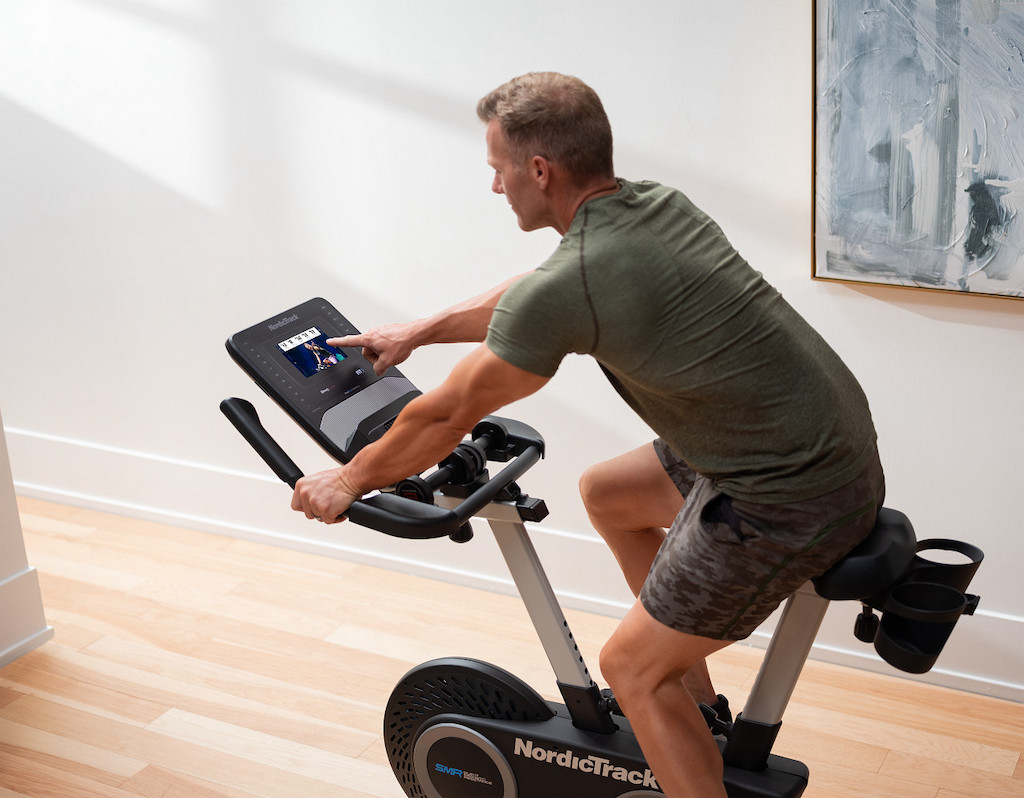 On an upright bike, the body position is closer to that adopted for outdoor cycling. It can be used both sitting on the saddle and standing on the pedals, to imitate the position of a dancer on a bicycle. A little more performance oriented than the semi-recumbent bike, it allows you to vary the exercises you do according to your preferences!
How should you choose your indoor bike in order to meet your goals?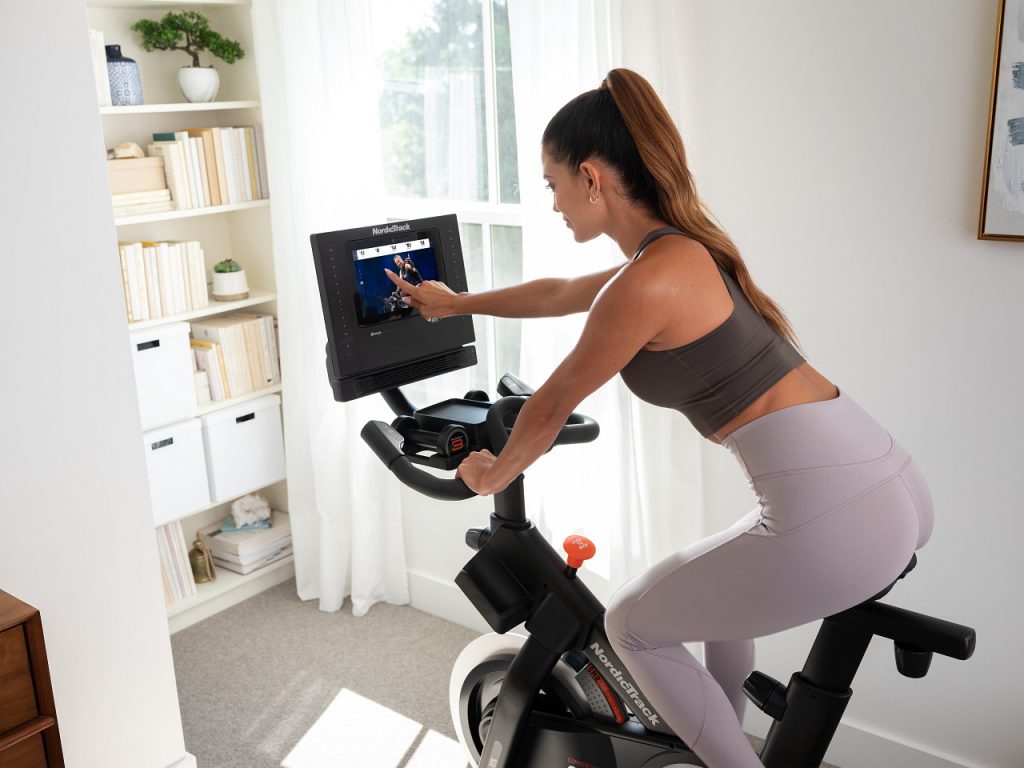 In order to choose the right exercise bike that will be best to equip yourself with, review your requirements factor by factor, including:
Your physical condition: the semi-recumbent bike is ideal for starting sporting activities and getting back into shape after a long period of inactivity, perhaps following pregnancy or as part of rehabilitation, for example. If you suffer from back pain, it is also the best choice for you to train by working on your body's muscle tone..
The type of sporting activity you do: the semi-recumbent bike allows you to carry out long cardio sessions without getting tired. The versatility of the straight bike makes this fitness equipment an asset for strengthening the muscles of the whole body, as well as for training for speed running or hill climbing. It is also ideal for physical preparation, for example, before a competition.
The space you have available: the semi-recumbent bike is generally a little less compact than a straight bike when in use. However, there are models that can be folded up or that come with clever storage systems.
Which model of exercise bike is right for you?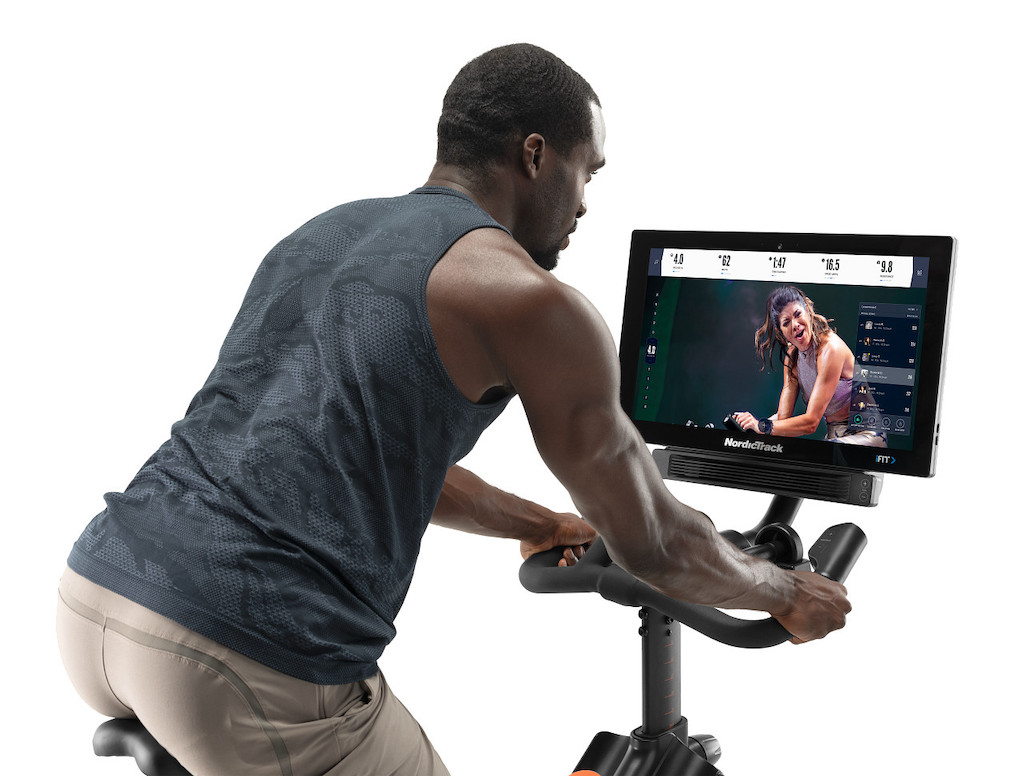 In order to satisfy all kinds of athletes, NordicTrack has developed several premium models of upright and semi-recumbent bikes that are compatible with iFit® virtual coaching solutions and offer other advanced features.
The Recumbent Series: NordicTrack semi-recumbent bikes
Exercise in the greatest comfort thanks to the semi-recumbent bikes of the Recumbent Series. The VR19, the Commercial VR21 and the VR 25 all have extra-large and comfortable pedals, for solid support whatever your body type. Resistance adjustment is done in a single movement and the Recumbent series bikes can also be moved around easily due to their integrated casters. Their ergonomic seats offer good levels of support for the lumbar vertebrae. With the VR25, you can follow your iFit® workouts on a video playback via its 7-inch HD touch screen.
The NordicTrack upright exercise bike ranges
The Commercial S22i Studio Cycle is a concentration of NordicTrack's know-how: a 22-inch tiltable HD touch screen for an immersive experience, -10% to 20% incline for training on both climbs and descents, 24 levels of digital resistance automatically adjusted according to the chosen program and non-slip handlebars… To complete your cycling sessions with muscle strengthening exercises, dumbbells are supplied with the S22i and you can turn the screen through 360° to create a true fitness room at home.
Among the NordicTrack exercise bikes, other series of upright bikes await you for different sorts of use: the Grand Tour and Biking bikes are designed for racing and to burn calories in the minimum time possible. Alternatively, there are the upright bikes of the Classic series which offer an excellent compromise between quality / price / user experience, whatever your sporting objectives may be.
Once you've found your exercise bike, get your bearings by selecting the training programme that suits you from the iFit® library: a one-year iFit® or an iFit® Family subscription is included with our exercise bikes.
Check out our Fitness equipment & Coaching page for more advice.