Training on an exercise bike isn't always easy. How can you stay motivated, day after day, when it seems that all you're doing is pedaling without ever going anywhere?
Don't worry: there are several new technologies available to make your workouts easier to bear, while setting new challenges.
New connected devices
Today's high-end home fitness equipment devices are more and more frequently equipped with a console that acts as a true dashboard, communicating all sorts of information related to the workout and the specific user. This presents an undeniable plus for a successful workout: it's easier to be consistent in your efforts and stay motivated when you can see your progress!
Now, though, we're seeing a new generation of fitness machine: Bluetooth-connected machines that in turn connect to a tablet that can access the internet. Other devices, such as treadmills, are also using such technology, which adds a new dimension to your workouts.
iFit Bluetooth: letting you take the reins
NordicTrack's range of exercise bikes, ellipticals and connected treadmills are iFit Bluetooth compatible, able to sync with an app that you can download onto a tablet. The console is thus connected to the device in real time.
So, what does that mean for you?
The tablet can display all sorts of statistics from your workout: you can visualise all the progress you've made over the weeks. How's that for motivation?
Select a training programme on the tablet, choosing among dozens of themes (HIIT, running, yoga, "travel workouts," etc.), all designed by professional coaches.
Create your own courses on the tablet, and turn them into a programme you can then upload to your home fitness device.
From the tablet, you control your equipment at the push of a button: depending on the device, you can change speed, resistance, incline and more.
The result: you become an active driver in the choice of your workout.
iFit Bluetooth and Google Maps™ : take a trip while working out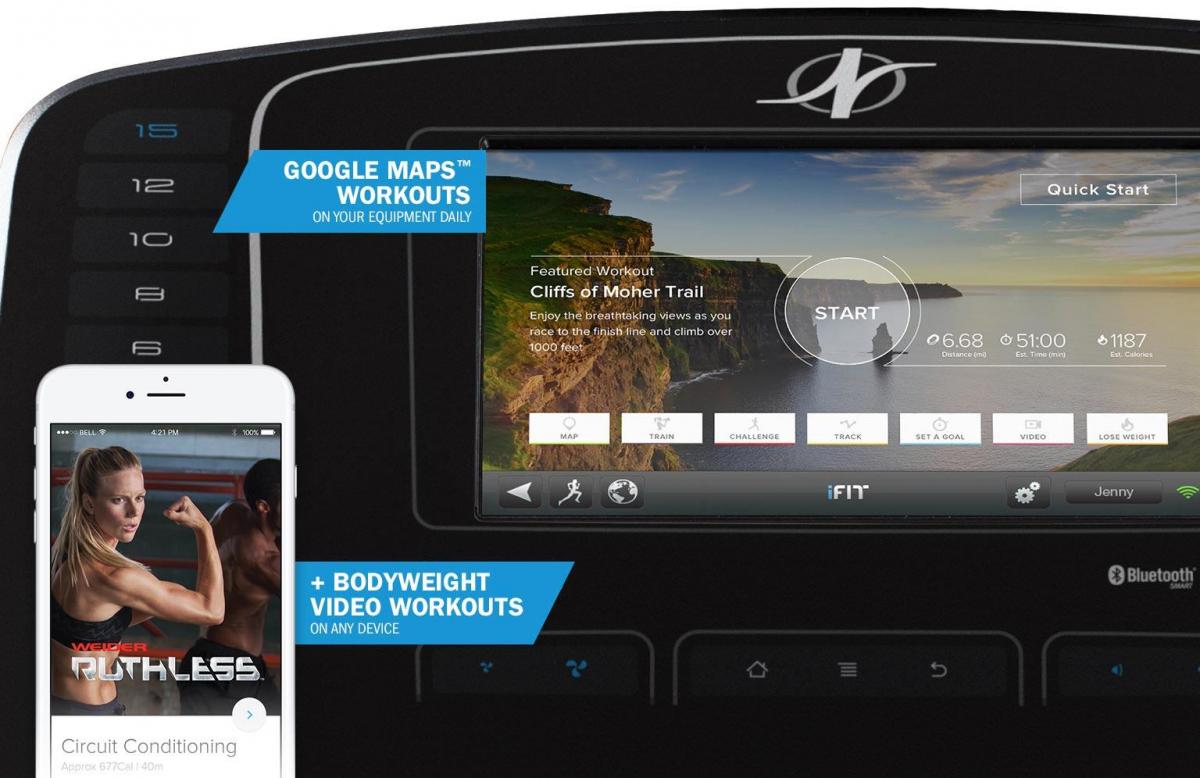 iFit Bluetooth compatibility is available on all models of NordicTrack's Classic Series exercise bikes, as well as on the the Recumbent Series VXR475. This really can change everything, completely redefining how you train.
Once you connect your tablet to your exercise bike, you can access personalised programmes, review data from your sessions, and visualise your progress. Most importantly, you can access all Google MapsTM routes, adding an entirely new dimension to your workouts! You can immerse yourself in an actual training environment of your choice, anywhere in the world, on your tablet. Want to go road biking across the United States? How about getting lost in the Australian outback, or in the French countryside? Each bike ride comes to life in vibrant ways thanks to Google Maps Street View technology. And of course, you don't just get a nice view: your programme reproduces the reality of your environment: you feel the burn in your legs as you climb hills, and you get the chance to recover while biking downhill, just as if you were pedaling in the actual place you've chosen. Your tablet is a window to a connected world.
iFit Coach: offering complete and authentic support
Using these connected technologies and subscribing to iFit, you also get access to iFit Coach. Much more than a simple library of bike routes, it offers complete training support to help you to reach your goals:
Programmes
Coaching
Nutritional advice
Personalised training according to your results or your diet
Tips to optimise your sleep
Online community support
And more!
More than ever, you can enjoy all the benefits of indoor training, exercising whenever you want without leaving home. You see you have no excuses now. So, get on your NordicTrack exercise bike!
We recommend
What Technologies Are Integrated Into Your Treadmill?
Treadmills are becoming increasingly high tech. These connected and interactive machines now come complete with tips and innovations to make your workout experience…
Read more >
iFIT Bluetooth-Compatible Treadmills: What Are The Benefits?

With integrated iFit Bluetooth technology, your treadmill transforms into your personal coach. You can access hundreds of video workouts, track your progress while you train, get personalised…
Read more >
Get The Most Out Of Your Cross Training Workout With The iFit Bluetooth Chest Strap
For the novice, using a heart rate monitor, such as the Bluetooth iFit chest strap, might seem superfluous. But if you can keep track of your heart rate in real time, you'll be able to…
Read more >