Choosing the right exercise bike isn't easy. Today, there are so many different types and they are more technical than they appear. You deserve a bike that meets your level of motivation. So be demanding and make sure you can distinguish among the essential criteria that will help you find the model which best suits you, according to your goals. Are you looking for a bike to help you lose weight, or one that will get you back in shape, or maybe a bike specially made to develop your cardio? Follow our guide and make the right choice.
A stable exercise bike, with smooth pedalling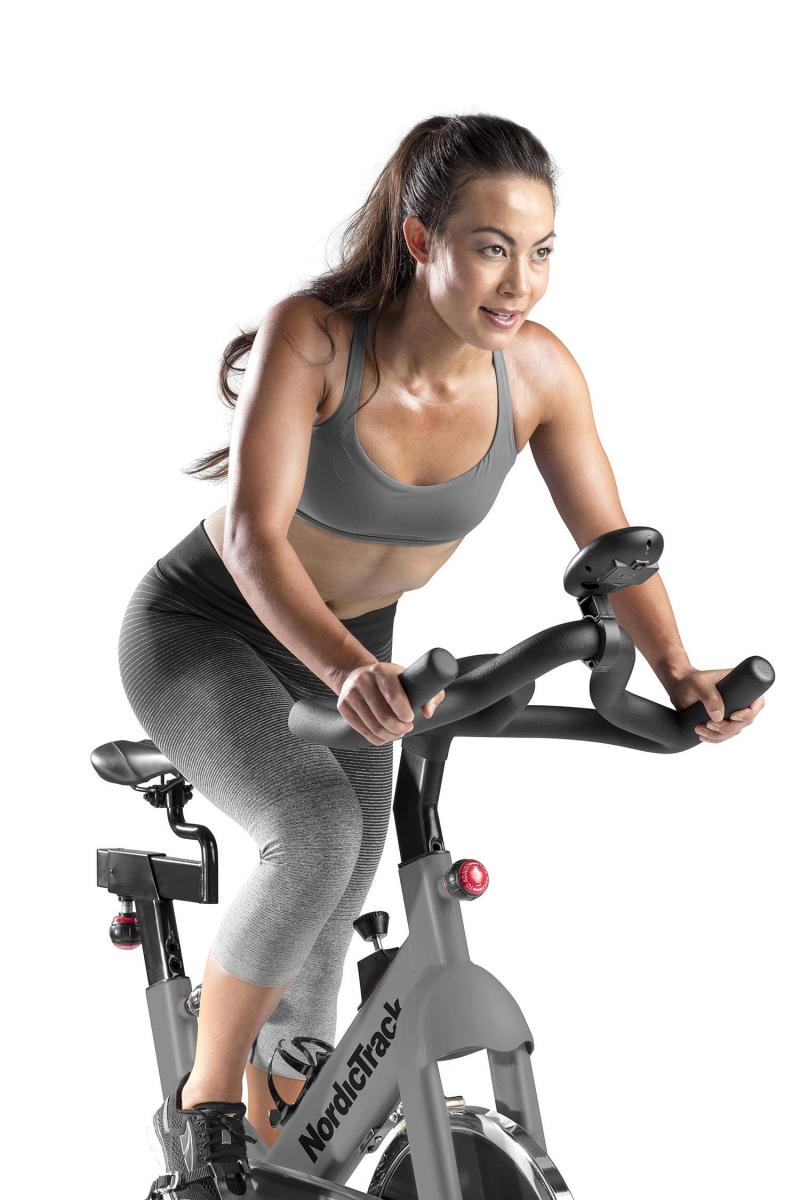 Make no mistake: an exercise bike is more than just a saddle and pedals. Before making the right choice for you, you need to know the basic elements of your fitness bike.

The flywheel that you turn when pedalling doesn't determine the difficulty of pedalling, but the fluidity. If the wheel is too light, pedalling will feel jerky with each stroke. A heavier flywheel offers more comfortable pedalling. A minimum wheel weight of 3 kg is sometimes advised, though in our opinion this is too light. Aim for at least 7 kg, going up to 9 kg for regular or intense usage.

Adjustable resistance offers the opportunity to increase the difficulty of pedalling, to simulate hills, for example. For manual models, adjust resistance by simply turning the dial. Digital models provide more precision through the handlebar console, which also offers predefined training programmes that automatically modulate your bike's resistance.
As for your bike's maximum resistance level, it will always be sufficient for a standard workout. Only high-performing athletes looking to attain a superior level of performance will need to seek a bike that can offer an extremely high level of resistance.

A Bluetooth-compatible console enables you to connect your bike to the Internet and enter into the world of interactive fitness. For example, with iFit technology by NordicTrack, you can compare your performance with others in the iFit community, access different training programmes, or envision yourself cycling anywhere in the world with GoogleMaps®–a definite advantage to vary your workout sessions and stay motivated. Of course, if budget is a concern, forego Bluetooth and just concentrate on the most important aspects of your exercise: training and making progress.
Comfort: more important than you think
A saddle that adjusts both vertically and horizontally, alongside adjustable handlebars, are essential elements that help you obtain the optimal position on the bike, eliminating discomfort and tension.
How about the positioning of your bike? Should you get a classic upright bike, or a recumbent bike with a seat and back? It depends on your goals. Seniors, people with joint problems, or those recovering from injury are often more comfortable with a recumbent bike. With a recumbent bike, you can reach and even exceed your objectives without risking further injury or loss of motivation. NordicTrack's Recumbent bike line is so comfortable that users sit on them just for pleasure. If you're looking for an intense lower-body workout (glutes, thighs, calves) and cardiovascular development, recumbent bikes can provide a more comfortable, longer training session that tests your endurance. One thing to remember, though: these bikes do take up more space than traditional exercise bikes.
That brings up another point: ease of storing your fitness bike… in your home. Foldable exercise bikes can be stored in larger closets. However, be aware that exercise bikes shouldn't be so light that they risk instability when in use. In the end, though, why hide your NordicTrack? Its elegant and sleek appearance will enhance any room.
Now you know almost everything. For years to come, your exercise bike will become your ally (maybe even your friend?) in your quest to tone up your lower body, strengthen your breathing and cardio, lose weight, and go beyond your goals. So take the time to choose wisely. Your bike should be something you look forward to using every training session. It shouldn't cause you to lose motivation. Beyond technical criteria and essential comfort, your choice of bike is also a subjective one: it should make you happy. When you've narrowed your choice down to two models, go with the one that moves you the most!
We recommend